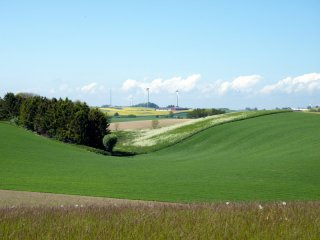 Going over the river after water is not the wisest. That was why today's trip to the Dag Hammarskjold Park. I have shunned it because I have only seen a gravel bike path that passed next to a 90 road with heavy traffic.
Dag Hammarskjold Park is the name of the green area, just off the ring road in Ystad. Having a natural area near the city is a benefit. But for those looking for an undisturbed and quiet nature experience will be a disappointment. For those who are pressed for time and want to take a walk, it is however perfectly. Likewise, for those who do not have access to a car.
The area is very easy to get around both by bicycle and on foot. There are some beautiful views. There were coots who had kids. Likely to be able to stand and look at them was not because they like to hide in the bushes to avoid prying eyes. There was also a small area that went off the road and then it was much quieter and calmer.
On the map, you'll find it here .