About the area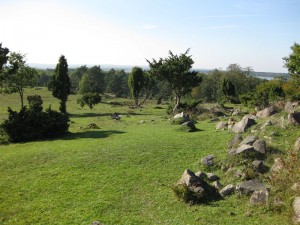 Snogeholm is one of Scania's more famous walks. The landscape is varied and there is a wide selection of well-marked trails. The only thing is that there may be a little corrected. We've added three good trail tips on our site see below. They are a bit trickier, more difficult and more challenging than our other trail tips but there is as I said, plenty of well-marked trails.
Follow the link to go to Region Skåne's excellent information page on Snogeholm. You may also be well download their map of the area with the various trails marked.
Posts I've done from the field: Blackberry Time , Falling leaves
Path Tips
Navarödsrundan (6 km) - Discover the lesser-known western parts of Snogeholm. The action begins at the meadow that slopes down towards Sövde Sea. If you are lucky Kasseler if you like bad luck, there are cows in the pasture. Then you can cross the bar later on. We begin by following the marked trail basically half way. It is clearly marked and the route goes through sand boxes away to Navaröds nature reserve.
Margaret Torp Round (6 miles) - Round follow different parts of the marked trails. By combining the map with the map of the area so you can figure out what color markings to follow. Good luck ...
Snogeholmssjön around (10 km) - The Round Lake is an exciting mission. At times, it's easy to roll-over ramp of trails or dirt roads. In some places, it is not so obvious where to put your feet. It's a wonderful tour that provides an opportunity to see the lake from all its angles. Do not forget to climb the bird watching tower on the lake's north side to see the field a little bit from above.
Gallery